Dog Live-in Sitting Chessington and Epsom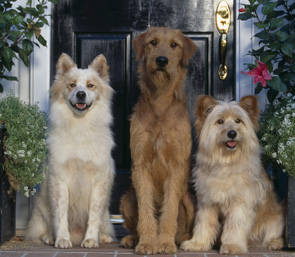 We provide live-in sitting in Chessington, Ewell and Epsom.
We find that the majority of dogs can get stressed by both their owners and themselves being away from home. We have discovered that dogs are more comfortable and at ease in their own home environment, and with their routine kept the same.
Our dog live-in sitting service is carried out by a designated live-in specialist as we feel this is a very personal service and your home is treated with the utmost of respect. The live-in sitter will simply move into your home whilst you are away.
It is ideal if you have lots of pets, a nervous pet or an older pet. We provide a like for like service with minimal disruption to your pet's routine. Your home will be clean and tidy upon your return. We provide our own food and toiletries, the only thing we ask for is fresh bedding (where possible).
Your home will also be safe and secure during our dog live-in sitting service for your return home and it is never left unattended over night.
We are happy to do a few extras, such as:
Placing post in a safe place
Watering plants
Putting the rubbish and recycling out
Initial Assessment
Once you have initially contacted us, we will book a FREE initial assessment at a time which is suitable and convenient. This is an opportunity for you and your pet to meet your pet sitter. We will ask you a series of questions to help us complete the job to the best of our ability. Feel free to ask us any questions and if we can't answer them at the time we will get back to you as soon as we can.
Keys
We can collect a set of keys at the initial assessment for free, or we can arrange to collect a key nearer to the service start date. Any keys collected/returned after the initial assessment will be charged at £5 for your pet sitter's time and fuel. You are more than welcome to drop/collect the keys from us.
Booking deposit
If you and your pet are happy with the initial assessment process then to secure your booking we ask for a 50% non-refundable deposit upfront. The remainder of the balance is then due two weeks prior to the service start date.
Terms
Please see our Terms and Conditions for Dog Walking and Sitting
Prices

Your pet will be looked after in the comfort of their own home

Charge is per day

£50.00
1 dog
£55.00
1 dog and 1-2 cats
£60.00
2 dogs from the same household
To make an enquiry please call 07980 339 839 or fill out the enquiry form on the right.
Make an Enquiry
call: 07980 339 839
Or fill out the enquiry form below…